Publisher's Clearing House are giving away a prize of $5000 / week for Life – WOW imagine never having to work again!

Simply submit this Official Entry Registration form by the deadline posted in the Official Rules and YOU could WIN $5,000.00 A Week For LIFE.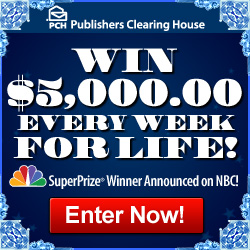 Checkout these coupons you may have missed!
Are you new here? Why not sign up to our newsletter.
Printable Coupons
Recommended Coupon Clipping Service
All posts may contain affiliate links. Read our disclosure policy